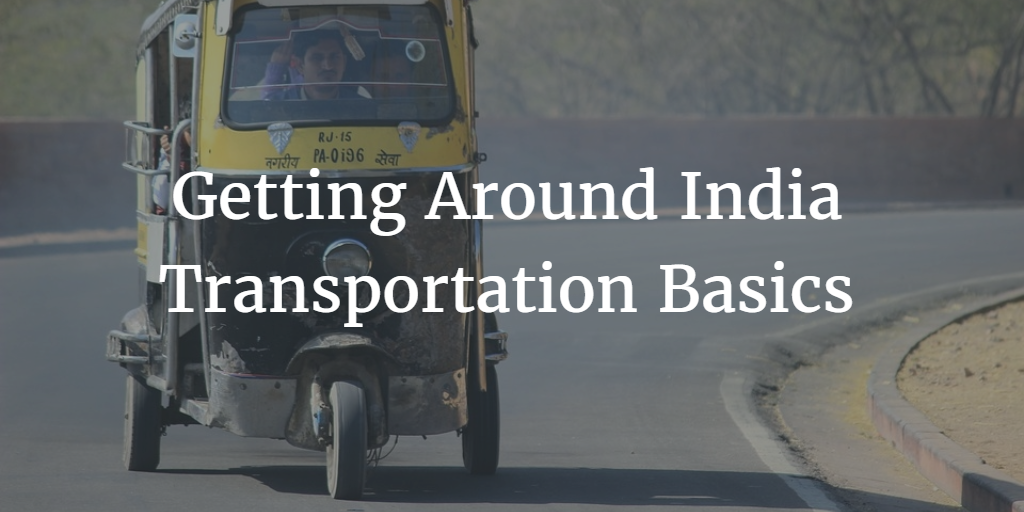 Before we talk about transportation in India, let's put the size of the country in perspective. Check out this map of India superimposed over a map of the US.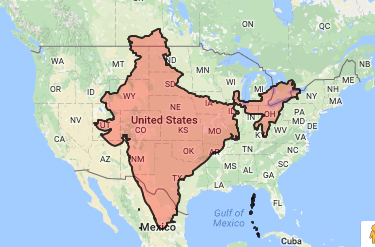 Here is India superimposed over western Europe.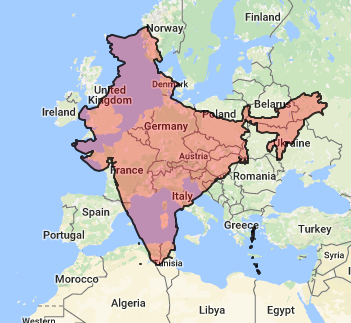 And India superimposed over Australia.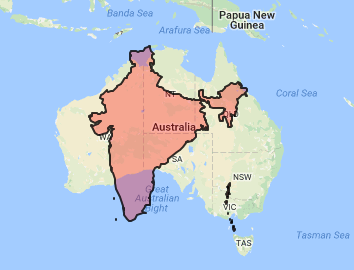 You can see from the maps that India is huge! In fact, India is the 7th largest country in the world by area and the 2nd largest in Asia.
When you are traveling LONG distances within India your best bets are flying and taking overnight trains. Let's explore each of these options.
Air Travel within India
Without question, flying is the quickest and easiest way of traveling long distances within India. Domestic aviation in India has grown at a huge rate over the last decade. 100 million passengers are expected to fly in 2017, putting India on target to become the third largest aviation market in the world by 2020. There are many domestic airlines competing to connect about 80 Indian cities. In fact, passengers can now choose from one government-owned full-service airline, two privately-owned full-service airlines, and four privately-owned low-cost airlines. Competition between all these airlines keeps prices relatively low, but taxes and surcharges add to the cost of all tickets. When you factor in the taxes and surcharges short flights are usually not much cheaper than long flights, making the train more attractive for some trips.
The main problem with air travel is dealing with airports that have not modernized fast enough to deal with the huge increases in the number of travelers. Many airports still use coach buses to bring passengers from the terminal to the airplane. New airports are being built and operated by private companies, and some, including the international airports in Mumbai, Delhi, and Hyderabad, are modern, beautifully organized, comfortable and efficient.
Check out our recent article about booking tickets with Cleartrip.
Long Distance Rail Travel within India
You can travel from one side of India to the other in three days and two nights. India has a massive rail system with 40,000 miles of track (60,000 kilometers), employing 1.6 million people who manage 10,000 passenger trains each day. The scale of the operation is mind boggling.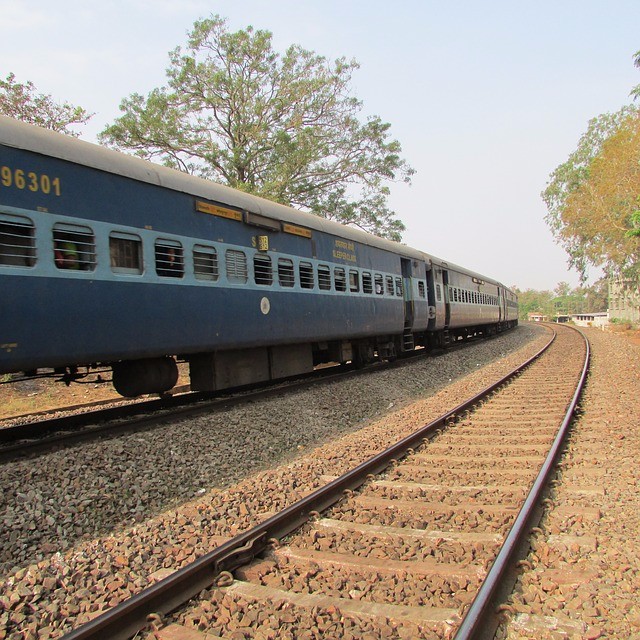 If you want to immerse yourself in Indian culture, there is no better way to do it than to ride the long distance overnight trains. The downside of train travel is not the ride itself, but the confusing process of booking the tickets, understanding the different classes of accommodations, and figuring out which part of which train is the one to get on. Rather than explain it all here, check out this website, which has a ton of information to get you started.
You might also want to learn about India's luxury trains for tourists. These super luxury trains are a completely different experience, allowing you tour the country in lavish comfort. These trains have names like the Deccan Odyssey, Golden Chariot, Maharajas' Express, Palace on Wheels, Royal Rajasthan on Wheels, and The Indian Maharaja. Before you get too excited, know that these trains can cost more than USD $600 per person, per DAY!
Once you arrive at your destination, what is the best way to get around town? Let's explore that next.
Local Travel within an Indian City
Which form of LOCAL transportation you pick has a lot to do with your budget and your tolerance for noise, pollution, and heat. Here is a list in order of decreasing cost and increasing exposure to the chaos of Indian streets:
Car and driver
Radio taxi (Meru Cabs, Easy Cabs)
Uber
Standard hired taxi
Three-wheeled autorickshaw
Cycle rickshaw
Walking
Car and Driver
Many tourists hire a car and driver for at least part of their trip. In all cases, cars with air conditioning cost more to hire. Even if you don't like the idea of air conditioning, be aware that keeping the windows shut can reduce the pollution you are exposed to, especially if you get stuck in traffic. The driver will wait for you and pick you up when you call, or when you return to where the car is parked.
Radio Taxi
A "radio taxi" is a privately managed taxi service owned by a company (like Meru Cabs or Easy Cabs) that maintains a fleet of air conditioned cars. You reserve these in advance online or over the phone. The taxis have electronic meters that print receipts and use GPS units so the company can monitor car movement around town. These electronics reduce the chance of drivers trying to cheat you or take you to the wrong place. Radio taxis are reliable and popular in Bangalore, Delhi, Hyderabad, and Mumbai. They charge per kilometer and cost a bit more than a standard taxi, but having a reliable, scheduled pickup is generally worth the extra cost. (If you need to be picked up right away, you should consider Uber instead if it operates in the city where you are.)
Uber
Uber is available in some Indian cities. We have used Uber very successfully in Pune and Delhi. You use the Uber app from your smartphone to book a taxi, which then comes to your location within a few minutes. Payment is handled through the app, so you don't have to negotiate or even discuss payment with the driver. If you have a local Indian SIM card in your phone (you can learn about getting one here), be sure to update the information in the Uber app with your local Indian number so that drivers can call you (they will not call your international number). Uber is priced very competitively and the quality of the service has been excellent in our experience. You can set up an Uber account in your home country with your normal credit card and it will work anywhere in the world where Uber has drivers. In our experience, Uber provides the highest quality experience for the lowest cost compared to any other local transportation option. The downside is that Uber is only available in a handful of cities in India.
Standard Hired Taxi
Standard taxis can either be hailed in the street or hired from taxi stands. They usually do not have air conditioning. Taxis operate differently in each city and state, so you might need to ask someone or research online for the area that you will be in. For example, in Ahmedabad, Bangalore, and Hyderabad, taxis need to be hired over the phone, while in Kolkata, Mumbai, and Delhi taxis can often be hailed on the street or from neighborhood taxi stands.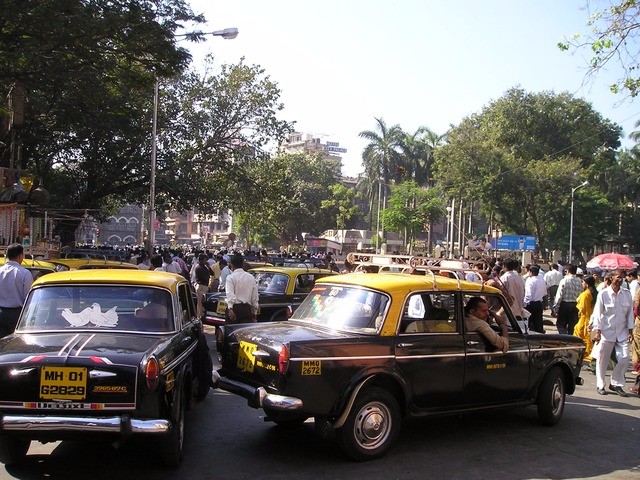 There are government regulations requiring taxis to have a fare meter installed. In some places, drivers are required to use the meter and they generally comply, but in many places, including Delhi and Chennai, you will need to agree on the price BEFORE you start your trip and make sure that it covers transporting your luggage. Even when you are using the meter, there can be additional surcharges for luggage and late-night rides. Tolls are also paid by the passenger.
Three-wheeled Autorickshaw
If you need to go a relatively short distance and there is not too much traffic (and pollution), a great way to travel around locally is by three-wheeled autorickshaw. Autorickshaws, called "autos" by the locals, are usually readily available and can be hailed on the streets. Autos have meters that calculate the fare according to the distance traveled, but not all cities require drivers to use the meters. Make sure the driver resets the meter before you leave, or negotiate a price in advance.
Cycle Rickshaw
Some parts of Delhi and some smaller cities still have cycle rickshaws, and Kolkata still has some hand-pulled rickshaws. You can hail these in the street just like a taxi. If someone is physically hauling you around in the traffic and heat, we suggest giving them a good tip -- you can bet they need it.
Metro Rail
Delhi, Mumbai, Kolkata, Chennai, Hyderabad, and Pune have "metro" rail systems that travel within the city. The Delhi system is new and we have had great experiences using it. The Mumbai system is ancient, hot and crowded and we suggest you avoid it unless you are up for an intense experience.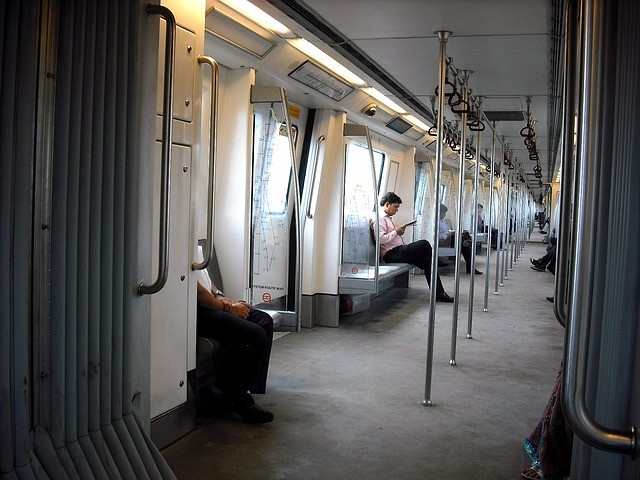 Delhi Metro: On the train

Transport to AVOID!!
Buses or coaches come in two general types: Local buses and long distance buses. We generally don't recommend that you take buses or coaches in India, ESPECIALLY the local bus. Local buses have complicated routes and fares and are simply not tourist friendly. Even the large tourist buses can be slow and uncomfortable and can have poor toilet facilities. That said, sometimes the large tourist buses are the only option for traveling to some destinations. If you do take a long distance bus, be sure it is one of the large Volvo buses and make sure you are getting a reserved seat.
We also don't recommend that you rent a car that you drive yourself. Once you have experienced traffic in any of India's large cities you will understand why. (Or just go to YouTube and search for "traffic in India"!)
Practical Advice
Look for prepaid taxi and radio-cab booths and kiosks at major airports, train stations and in some tourist areas. Prepaid taxis help you avoid commission scams and paying elevated "foreigner" rates. After you pre-pay you will be given a receipt. Hold onto this receipt until you arrive at your destination.
Carry lots of small bills. Taxi and rickshaw drivers never seem to have change.
In some places, taxi fares are calculated by using a combination of the meter reading and a complicated "fare adjustment card". As you might suspect, this additional complexity is often used to get you to overpay. Check out this website to get a sense of what the fare should be in advance.
Hitchhiking puts you at risk, so we suggest that you do not do it!
JOIN US FOR A LIVE ONLINE WORKSHOP EVENT

Want to hang out with us online and learn more about this topic? Sign up for our free online workshop where we will cover these issues and more on September 10th and 17th!